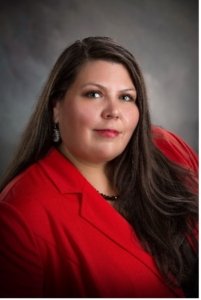 Longmont, CO – Oweesta is pleased to announce that Fern Orie has joined the organization as Chief Programs Officer and Executive Vice President of Advocacy & Strategic Partnerships. In this capacity, Orie will serve as a critical member of the executive leadership team and will lead Oweesta's strategic efforts to impact national policy to expand capital access for Native communities, strengthen our private and public partnerships, and oversee Oweesta's capacity building efforts in support of our Native CDFI partners.
"I'm excited to join Oweesta after working in partnership with them at the Wisconsin Native Loan Fund all of these years. Leading the Wisconsin Native Loan Fund, I experienced how Native CDFIs are agents of change and are the most powerful resources to help communities thrive. It is an honor to now support the broader Native CDFI movement on a national level," said Fern Orie.
Orie brings 20 years of experience working in the Native housing and community development industry. She recently served as the founding CEO of the Wisconsin Native Loan Fund (WINLF) for the past fourteen years, where she established a statewide housing Native Community Development Financial Institution (CDFI) providing housing, consumer, and business loans to tribal members on all eleven Wisconsin Indian Reservations. Since 2015 she has served as the founding Chairwoman of the Wisconsin Indian Business Alliance, a unique collaboration of the four Native CDFIs of Wisconsin. Additionally, Orie serves on the Board of Directors as the Vice Chairwoman of the national organization, the Native CDFI Network.
"Oweesta is excited to have Fern join the team at a time when Native CDFIs are increasingly becoming vital lifelines for financial recovery of their communities," said Chrystel Cornelius, CEO and President of Oweesta. "Fern has been a fierce champion of the Native CDFI industry for decades; we are confident her experience and passion will help carry Oweesta forward as we work to drive $100M of capital into Native communities by 2030."
Orie is a strong advocate for the cultural and economic prosperity of Native people in her home state of Wisconsin and has served as an ambassador of Indian Country at the national levels. She was appointed by the Governor to the Wisconsin Economic Development Corporation's Entrepreneurship and Innovation Committee, and the Governor's Council on Financial Literacy and Capability. She also serves on the Wisconsin Economic Development Association Board of Directors. In addition, she sits on the Board of Directors and Loan Committee of Bay Bank, a tribally owned bank, and on the Forward Community Investments New Markets Tax Credit Advisory Board. Fern serves on the Program Advisory Committee for the Lac Courte Oreilles Ojibwe Community College and also the Community Advisory Committee for Associated Bank. Orie holds a B.A. in Business Administration and is a certified Economic Development Finance Professional (EDFP) through the National Development Council. She is an enrolled member of the Oneida Nation of Wisconsin.
***
Media Contact
Denisse Ruiz
Communications Officer
denisse@oweesta.org
https://www.oweesta.org/wp-content/uploads/2021/11/Oweesta2021logo-298x300.png
0
0
Isaiah Cornelius
https://www.oweesta.org/wp-content/uploads/2021/11/Oweesta2021logo-298x300.png
Isaiah Cornelius
2021-09-14 12:34:31
2021-11-09 16:51:41
Oweesta Welcomes Fern Orie as Chief Programs Officer and Executive Vice President of Advocacy & Strategic Partnerships