Oweesta Releases Two Groundbreaking Reports on the Native CDFI Industry
Oweesta is thrilled to release two groundbreaking reports that provide an in-depth look at the Native CDFI industry. Both of these reports are part of our commitment to share best practices, key findings, and successful or promising models widely.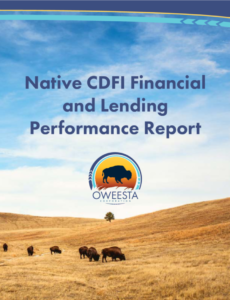 Native CDFI Financial and Lending Performance Report
Our Native CDFI Financial and Lending Performance Report looks at the health of our lending portfolio and offers an insightful synopsis, backed by data, of the overall strength of investing in Indian Country. We plan to produce this report on a yearly basis as a tool for Native CDFIs to understand how their operations and financial performance sits in comparison with their peers, in order to guide decision-making at their organization. The report includes:
Synthesized quarterly borrower reporting data from 28 Native CDFIs and one Native CDFI banking institution.
An analysis of investments across loan type (business, consumer, housing, and agriculture) and/or asset size.
Data that supports the belief when armed with the appropriate resources, Native peoples hold the capacity and ingenuity to ensure the sustainable, economic, spiritual, and cultural well-being of their communities.
A special thanks to our partners and borrowers for sharing their borrower information on a quarterly basis, and to Northwest Area Foundation for sponsoring this report.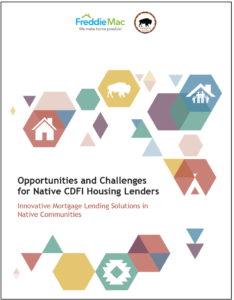 Housing Market Study
Oweesta's study Opportunities and Challenges for Native CDFI Housing Lenders: Innovative Mortgage Lending Solutions in Native Communities provides an in-depth exploration of the housing market in Indian Country. Looking at surveys and data analysis, the report paints a clear picture of Native CDFI's crucial role in developing the housing landscape on tribal trust lands and beyond. The report includes:
An analysis of institutional challenges as well as the creative solutions undertaken by Native CDFIs to overcome those challenges.
Actionable recommendations for Native CDFIs and partners to adapt to the growing demand for housing.
Oweesta is grateful to the many partners and contributors to this report and Freddie Mac for funding the research behind this report.
http://www.oweesta.org/wp-content/uploads/2021/11/Oweesta2021logo-298x300.png
0
0
Isaiah Cornelius
http://www.oweesta.org/wp-content/uploads/2021/11/Oweesta2021logo-298x300.png
Isaiah Cornelius
2021-09-30 15:07:55
2021-11-09 16:50:54
Oweesta Releases Two Groundbreaking Reports on the Native CDFI Industry