Chrystel Cornelius of First Nations Oweesta Corporation Awarded Local Economy Fellowship, Joins North American Leadership Network
Oakland, CA – Thirty-six leaders representing innovative community and economic development solutions in 29 U.S. and Canadian cities have been selected to the Business Alliance for Local Living Economy's (BALLE)  fourth cohort of Local Economy Fellows.
These are leaders with fierce love for their communities – a love that they're each putting to work in ways that bring equity, opportunity, capital, and support to small local businesses and the diverse populations in every community they serve.
Locally, Chrystel Cornelius, Executive Director of First Nations Oweesta Corporation in Longmont, Colorado, was named to the fellowship. Chrystel is empowering Native American communities, using a CDFI model to build wealth and economic independence among tribal communities across the U.S.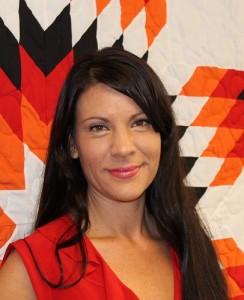 "The leaders selected for this cohort represent the direction we believe we need to go as a nation and as a planet," said BALLE Executive Director Michelle Long. "Each of the 2016 Fellows are working to bring more accountability, personal relationships, and compassion to business. Collectively we see in this group the seeds of an economic system that serves life, rather than the other way around."
The BALLE Local Economy Fellowship is the only program of its kind in North America focused on advancing local economies. This immersive, 18-month program equips local economy innovators with leadership and capacity-building skills, a peer network of leaders and funders across North America, and a national platform illuminating their models for other communities. By building this network and offering a curriculum of transformative personal and professional development, BALLE aims to catalyze the emergence of an equitable new economy.
BALLE Local Economy Fellows are selected based on their vision, leadership, and their roles as strategic connectors of thousands of local businesses.
Given what we know about the power of small businesses in North America – they are proven to increase local civic engagement, create 60-90 percent of net new jobs in the U.S. and Canada, and represent about half of U.S. and Canadian GDP (about $9.5 trillion) – it is no exaggeration to say that BALLE Fellows and leaders like them are transforming the bedrock of our economy.
The 2016 cohort directly serves more than 52,400 local businesses. Four fellows working through regional governments or focused on leveraging public dollars and policy – a new focus area of the BALLE Fellowship program – impact an additional 471,200 businesses through their work.
Other focus areas of this cohort include leaders who are advancing entrepreneurship and opportunity in under-resourced communities and communities of color, advancing cooperative development and worker ownership, transitioning post-coal Appalachia, and bringing conversations about well-being, equity, and health to board rooms, funding models, and networks of small businesses.
"BALLE Local Economy Fellows aren't waiting for big government or big business to step in and fix all that ails a dying system – instead they are working to change economies right where they are, starting with the tools and resources they have:  human capital, resourcefulness, and an entrepreneurial spirit," said Shawn Escoffery, Director of the Strong Local Economies Program for the Surdna Foundation.
The BALLE Local Economy Fellowship is made possible in partnership with the Christiano Family Fund, Kalliopeia Foundation, Kendeda Fund, NoVo Foundation, One 4 All (a donor advised fund of Proteus Fund), Surdna Foundation, Swift Family Foundation, two anonymous donors, and many generous individual supporters.
https://www.oweesta.org/wp-content/uploads/2016/05/Balle.jpg
430
1172
Oweesta
http://www.oweesta.org/wp-content/uploads/2021/11/Oweesta2021logo-298x300.png
Oweesta
2016-05-02 20:02:05
2017-04-21 21:29:07
Chrystel Cornelius of First Nations Oweesta Corporation Awarded Local Economy Fellowship, Joins North American Leadership Network