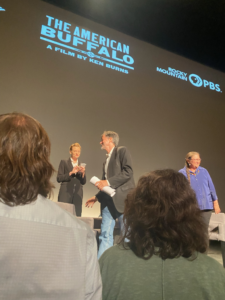 On Thursday, August 24, 2023 at Ellie Caulkins Opera House, Oweesta Corporation had the privilege of attending the Bank of America sponsored event, "An Evening with Ken Burns: The American Buffalo" with a selected screening of the upcoming PBS film "The American Buffalo." A discussion of the film followed with Ken Burns and Rosalyn LaPier (Blackfeet of Montana and Metis), moderated by Kate Perdoni. Through the generosity of Bank of America, this event brought awareness to the release of this timely film and included an insightful discussion of the near extermination of the American Bison and underlying theme of the desecration of the Native American population and culture.
"This film validates what we know as Native people," shared Stephanie Cote, Senior Programs Officer at Oweesta Corporation. "It raises awareness of the atrocities that were committed against Native populations through the extermination of such a sacred animal that roamed freely in the American Plains for the sake of furthering the industrial revolution on the east coast. It also subtly acknowledges the thought process of the time: if the American Bison are removed, the 'Indian Problem' will also go away." Without going into spoilers, the film highlights a turning point toward a resurgence of the American Buffalo and ecological balance to the American Great Plains.
The film "The American Buffalo" will air October 16th and 17th from 8-10 pm EST on PBS (check local listings), at PBS.org, and on the PBS App. For more information, click HERE.