In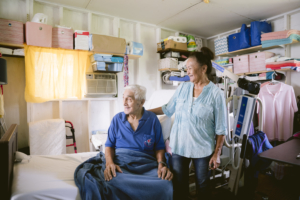 May 2018 the Kīlauea Eruption on the Big Island of Hawaiʻi left devastation and destruction in its path: 2 dead, 24 injured, and at least $800 million in property damage. Volcanic gas and earthquakes forced the evacuation of populated areas and destroyed houses, roads, and utilities. While the eruption first happened May 3, it was active and expanding every day until it ended on September 4, 2018. It was after this four-month period of destruction and loss, that Hawaiʻi Community Lending (HCL) first met William and Barbara.
Native Hawaiian, William shared how he and his wife Barbara had lost everything including the home he built with money he pieced together over decades. Although a veteran, he was never able to purchase a home through the Veterans Administration mortgage program or any other loan program because of the cost of living and housing in Hawaiʻi are unaffordable for the very low-low-income families.
The family built their home on land they could afford. Unfortunately, the land in this affordable area comes with the knowledge of living in the path of an active volcano, the area called Kilauea, which is home of Madame Pele. In Hawaiian myths and legends Madame Pele is the goddess of volcanoes and fire and the creator of the Hawaiian Islands. She is both a creator and destroyer. Many legends speak of her work, her powers and her ways. Legends say Pele will destroy and rebuild Hawaiʻi as a way to remind us of our responsibility to our land and to each other.
Given the affordability of vacant land in this area and with knowledge of the lava zoning for this land, William and Barbara built their home and hoped Pele would not show herself during their lifetime. Unfortunately, the volcano erupted, and they witnessed one of the worst eruptions in Hawaiian history.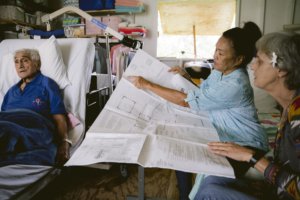 The family have been forging ahead to re-build a safe and simple home for themselves. Fortunately, Hawaii Community Lending found William and Barbara and worked with them to put together a $28,000 loan to start home construction.
"There was a knowing and understanding when we met that HCL would be the ones to help them. In working with the family, we connected on many levels, one of them being that our families' lineages go back to the 1600s in Hawaiʻi and the idea came up that we may be distantly related made helping them extra fulfilling," said Winona Kauhane, Mortgage Loan Manager at HCL.
While COVID-19 and rainy winter weather has put the construction on hold, the Hale ʻohana (family) plan to resume construction shortly. The Hales are one of many families HCL was able to assist thanks to their ability to get into the community to find the people in need.
This story was written by Winona Kauhane, Mortgage Loan Manager, Hawai'i Community Lending (HCL)
Photo (top): The Hales' niece stands at the construction site of a future home for the Hales, a Native Hawaiian family who lost their home during the Kilauea Eruption. Photo Credit: Hawai'i Community Lending.
Photo (top right): William Hale and his niece. Photo Credit: Hawai'i Community Lending.
Photo (bottom left): The Hale family look at plans for future home of the Hale family. Photo Credit: Hawai'i Community Lending
Oweesta Corporation
2432 Main Street, 1st Floor
Longmont, CO 80501
303.774.8838
info@oweesta.org
Oweesta is an equal opportunity employer and provider.
Oweesta is the longest standing Native CDFI intermediary offering financial products and development services exclusively to Native CDFIs and Native communities. Specifically, Oweesta provides training, technical assistance, investments, research, and policy advocacy to help Native communities develop an integrated range of asset-building products and services, including financial education and financial products.
Asset-building tools stimulate reservation economies by providing tribal members the opportunity to acquire financial management skills and build and accumulate assets through small business creation, homeownership, education, and much more.